1. Product
Introduction of the Aluminum PCB for lighting
The aluminum PCB is a metal-based copper-clad laminate with good heat dissipation function. Generally, a single panel is composed of a three-layer structure, which is a circuit layer (copper foil), an insulating layer and a metal base layer. Commonly found in LED lighting products. There are two sides, the white side is for soldering the LED pins, and the other side is in the natural color of aluminum. Generally, the thermal conductive paste will be applied to contact the thermal conductive part.
2. Product feature and application of the Aluminum PCB for lighting
Aluminum PCB (metal base heat sink (including aluminum base plate, copper base plate, iron base plate)) is a low-alloyed Al-Mg-Si series high-plasticity alloy plate), which has good thermal conductivity, electrical insulation properties and mechanical processing properties Compared with the traditional FR-4, the aluminum PCB adopts the same thickness and the same line width. The aluminum substrate can carry higher current. The aluminum substrate can withstand voltage up to 4500V and the thermal conductivity is greater than 2.0. In the industry, the aluminum substrate is used mainly.
3. Product Qualification of Aluminum PCB for lighting
For the aluminum PCB for lighting, we would do fixture test, which can help to check the circuit is short or opened, before package the Aluminum PCB, the OC also would inspect the boards again.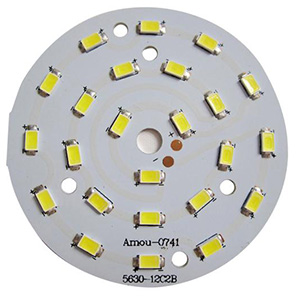 Hot Tags: Aluminum PCB for Lighting, Manufacturers, Suppliers, Factory, Customized, Free Sample, China, Made in China, Cheap, Quotation, CE, Quality, 2 Years Warranty